Seniors celebrate during sunrise event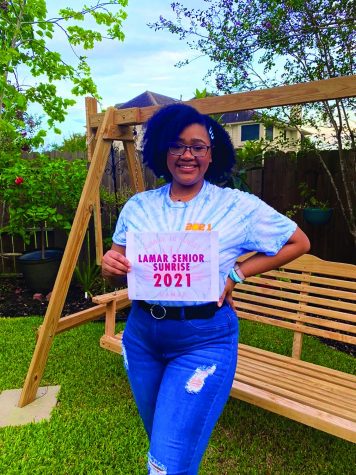 While many events were canceled due to Covid-19, the Senior Sunrise event was created as a safe alternative. The PTO held the Senior Sunrise as a fundraiser and a way for seniors to have fun in their last year. Although the complications with Covid-19 were not ideal for the Senior Sunrise, it did not prohibit the event from occurring.
This year's Senior Sunrise event was virtual and participants were asked to submit a photo of themselves or with friends wearing the Sunrise to Sunset t-shirt while holding a sign that says "Lamar Senior Sunrise 2020" in their favorite sunrise location. The photos were then shared on Principal Rita Graves' Instagram and collected to include the event as a spread in the yearbook.
For many seniors, the Senior Sunrise event was one of the few things to look forward to, since many other events were canceled due to Covid-19.
"Senior Sunrise is something fun for the seniors to do and remember before they leave Lamar," senior Ronald Smith said.
Every year, there are events for the seniors to have fun and make memories before the end of their high school career.
"I really think future seniors will also enjoy the event," Smith said. "The part I enjoy the most about senior sunrise is how we get to take photos with your friends."
The sudden alteration to the start of their final year of high schoool did not prevent seniors from having fun. The core value of the event is to bring seniors together, and that did not change in this year's senior sunrise.
No matter what route the seniors take, the senior sunrise is a part of their lives that all seniors of Lamar share. It is something that will be remembered as each and every one of the seniors embark on a new journey.
"My expectations for the senior sunrise were high and that expectation definitely held true," Smith said. "[It] is something we seniors will look back on when we leave Lamar for college."
If you have pictures from this event, share with @lamarlifeonline or @lamarlifeyearbook for a chance to be in one of the publications!
Leave a Comment