Community service and the pandemic are not mutually exclusive
With the pandemic, many volunteer opportunities for students have been shut down or closed. However, there are still many ways that students can give back to their community, while staying safe from Covid.
"Community service now is more important than ever," senior Amanda Planck said. Many people are struggling even more now since the pandemic. It is important that we try our best to help them in any way possible."
For those that are unsure how to start, school provides many community service opportunities for students.
"There are a lot of clubs such as NHS (National Honor Society) and Key Club which focus on community service," Planck said. "Joining a service based organization is a great start. Through volunteering I feel like I have made a difference and impacted someone's life. It makes me feel good to help out my community."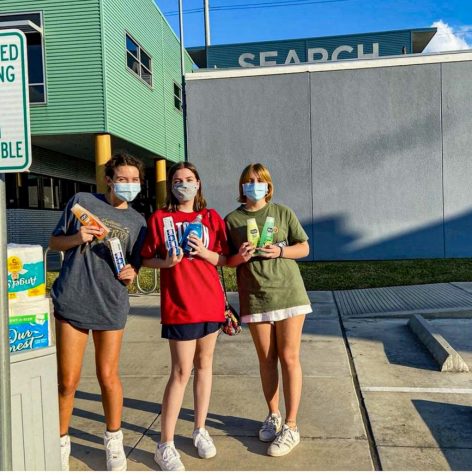 Outside of school, there are other ways for students to give back to their community while staying safe.
"Lamar students can get involved in so many ways!" said senior Mackenzie Wilson, who is the student body president. "A lot of community service is manufactured through virtual events, donations, online emails, or mail. Things as simple as writing letters to the elderly, veterans, teachers are great safe options, as well as donations to the women's shelter and other drives. The Houston Food Bank is a great organization that is always willing to take donations. Also, Books Between Kids! Books Between Kids is a great place to donate old books that you don't want or books that you no longer need!"
Not only does volunteering benefit the community, it also helps students learn important life skills.
"Community service is important because it allows us as students to learn outside of a classroom while actually making a difference," Wilson said. "Volunteering is a great way to make a positive impact on society as well as an opportunity to advance skills such as leadership and organization."
Leave a Comment