Pep rallies are back, but with many new changes
For the first time in about a year and a half, Lamar is finally able to hold pep rallies once again, with a few modifications.
The first pep rally of the school year was Aug. 27, 2021, but many were thrown off by the new changes, a major one being its new location. Pep rallies are now held outdoors under Ms. Graves's balcony at 7:45am, every Friday.
"It's definitely a big adjustment because we are so used to being in the gym," said senior Kendall Reese, the student council president. "And it's a lot easier to do things in the gym, so I'm just having to adjust."
There have been noticeably less people attending pep rallies so far this year than there were last time we had pep rallies. Many people don't necessarily like its new location and others don't know where to find it. 
"I prefer inside because one, it's air conditioned, and two the sound coverage is a lot better here in a smaller space so the sound can take up the room," Reese said. "Whenever you're outside, the sound can go so many places that it's harder to hear. So, I definitely prefer inside, but I don't want to get COVID."
Although it's a big adjustment holding pep rallies outside, it is for the best of our safety. The changes seem big to the eye, but in reality pep rallies are still the same at heart.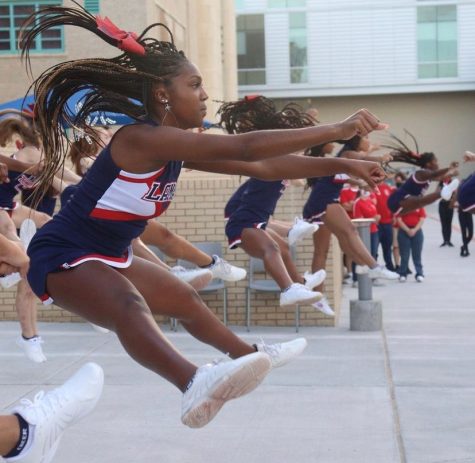 "I think that pep rallies would be more fun if they were in the gym, but obviously for COVID we can't have that, which is totally fine," junior Ella Chisholm said. "But I think pep rallies themselves haven't changed that much, and it's still a really fun atmosphere to be around and doing the chants with your friends and all that stuff, it's just a really fun time before school starts."
Adjusting to the new pep rallies will undoubtedly take some time, but enjoyable nonetheless considering our student council and school's efforts to keep them fun and lively.
" I wish more students would come and join because it's all of our students," Hale said. "We want to make sure they are all invested in not only our football team, but also in all of the other activities such as cheer, or our rangerettes, our band as well because it benefits all of us."
Leave a Comment