The Long Way Home: Coach Rogers returns to his roots
It's Lamar's first football state championship. The crowd is going wild, and spirits are high. This game means the world to each man on the field, and after months of hard work and daily training, the team is finally here. The game was lost, but the experience was one that would never be forgotten. One man in particular on the field that day, was Cravon Rogers Jr. or as some students might know him, Coach Rogers. 
Rogers is a 10th grade world history teacher and a football coach. It is his first year at Lamar as a teacher, but he is rather familiar with the school. 
"I went to Lamar High School. It was good. I had a lot of fun my senior year," Rogers said. 
Rogers played on the football team. During his senior year, the team had a 15-1 record and the team made it to the state championship. 
"During the whole fall semester, the atmosphere of the school was very lively and very supportive. It was new because the Lamar football team had never been that far in the playoffs so that entire semester, the whole state playoff was just very exciting for the whole school in general," Rogers said. 
Rogers, very ambitiously, prepared and trained every day, putting his all into football. 
"I knew I wanted a scholarship for football so that I could go to the next level," Rogers said. 
Rogers got the scholarship for football and attended Morgan State University in Baltimore, MD.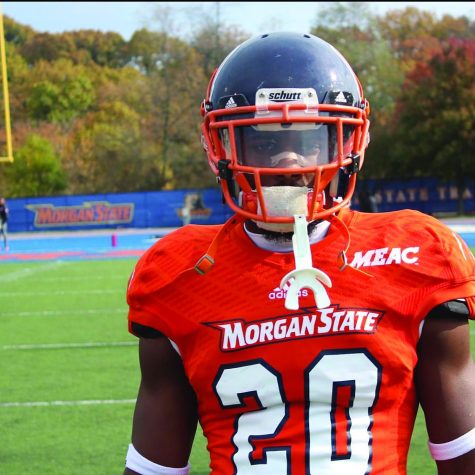 "Morgan State is an HBCU, and I would absolutely encourage anyone to attend an HBCU. I graduated with a bachelor's degree in sports administration," Rogers said. 
Rogers has always loved history and been passionate about it. However, he had no desire to become a teacher.
"The last thing that I wanted to do was teach but my love for history and love for the game of       football, I guess you    could say that it brought me back and I really enjoy it," Rogers said. 
What makes Rogers such a great teacher and role model for students is his empathy. 
"I love teaching students because I understand that a lot of them don't like school. I wasn't a big fan of school, but I understand importance of it, and I want to help my students. I think my understanding of the student helps me relate to them better," Rogers said. 
Despite the initial lack of interest in teaching, Rogers has come to love teaching and has become a favorite for many students, helping guide them in the right direction. 
"I think all students should find out what they're interested in, find what they're good at. If you pursue your interests and pursue what you have an affinity to, you will not feel like you're lost because day to day a lot of people don't know 
what they want to do and it leads to confusion and leads them to doing things that they will regret but if you pursue something that you enjoy doing and that you're good at then I think that will set you on a path where you have a sense of fulfillment," Rogers said when asked to give some  advice to students. 
In the future, Rogers plans to continue teaching and hopes to one day be a head coach. For now, he is just happy to be back at Lamar. 
"It feels like I'm back at home, except that they renovated the place…"
Leave a Comment