Graves enforces Uniform Policy
From the teachers' perspective:
After multiple students came to school out of uniform, principal Rita Graves started enforcing the school dress code more strictly. 
Graves posted about it on one of the Lamar Instagram pages (@viewfromthelhsbalcony) and informed everyone about the dress code sweeps that would start occurring on the following Monday. She also made other rules to help enforce the dress code such as being able to order outside food only if in dress code. 
"The dress code helps us quickly identify people who should be here and people who shouldn't be here. So, it really is a safety measure for us, and if I can look up across the lawn and see the sea of navy blue and white and see someone not in dress code, then I can walk over and see what's going on and figure out if they belong here or not," Graves said. "But when no one isn't really following the dress code, it becomes much more difficult to ensure that we are getting to the right people to get confirmation that they belong here."
Although the dress code can be seen as annoying and hard to maintain, many teachers agree it is enforced for the safety of students and staff.
"Being on this side of it as a teacher, I can spot students quickly," biology teacher Sergio Arjon said. "Now I know some people say anyone can sneak on — we already caught someone doing that," Arjon said. "We caught a kid who wasn't from this campus sneaking in here and we were able to target them really quickly because of what they were wearing. I myself found an adult on campus. How do you think I found out? Because they weren't in the dress code." 
This shows that the uniform can and has helped us with security on our campus. As said by the Assistant Principal and LPAC Administrator Dr. Raymond Cain, students might not realize and identify how much the uniform actually helps teachers when they are monitoring the school.
"Often students as individuals don't realize that we are on a campus of more than 3 thousand students and even though we have quite a few of us on the administrative team, that is very difficult to monitor and know students that belong here versus who don't belong here," Cain said. 
Another reason for the dress code is to help prepare students for the future. A lot of jobs will require a dress code and it can be good to learn how to follow it early.
"I want to see you guys learn how to prepare yourself to present yourselves professionally when you live here," said Graves. 
This enforcement of the dress code was caused by students breaking it, and according to Graves, the more time teachers spend arguing with students about the dress code, the less time they have to plan the things that make school fun. 
"
"I think it's really important that you all gain your independence and confidence in yourself at this age, but it becomes added work for us when you don't follow the dress code." "
— Rita Graves
The result of arguing over dresscode: teachers getting more annoyed than mad when students break the dress code. 
"The thing that does upset me is when we are two to three months into school and I'm telling the same people the same things. That's the annoying part," said Arjon. 
It was also noted that when students apply to go to Lamar, they are shown the rules and regulations so they should already what they are going to be getting into when wanting to join the school. 
"When you come to Lamar, there's a dress code — so it really shouldn't be a big deal knowing that that's what you have to wear when coming to school along with all the rules and regulations," said Cain. "When you choose to come here because of the academics and extracurriculars, you know that's a part of the deal."
The overall message here is that the uniform is in place for the student's safety and without it, it would be harder to tell who really belongs here or not. The teachers know students may not like it but they are doing it for them.
"If we aren't in dress code, then how do we know who doesn't belong?" 
From the students' perspective: 
A lot of the students aren't very happy about the dress code enforcement. Many students think it is unnecessary and the school dress code shouldn't be as strict. 
Some think the uniform is too expensive or that the dress code should have a wider range of options, such as being able to wear sweatpants. 
"Think it's a little bit too strict, and I feel like it's been unfair to some of the students," sophomore Eva Ryan said. "I do consider the uniform expensive and I feel like it's not ethically made either which can cause issues for lots of people since they are made in sweatshops which is not okay."
"
I do consider the uniform expensive and I feel like it's not ethically made either which can cause issues for lots of people since they are made in sweatshops which is not okay."
— Eva Ryan
A sweatshop is defined by the US Department of Labor as a factory that violates two or more labor laws. These sweatshops often have poor working conditions, along with unfair wages, unreasonable hours, and even child labor. Our uniforms should be made in better environments and factories that are fair to their workers. 
Most students know that you can go to a Walgreens and find Lamar apparel there, so really anyone could go and buy the uniform and pretend they go to school here like any other student. This brings up the question — is the uniform the safest way to protect the students and our school? 
"I think a more efficient way is to check IDs instead, and I feel like it would be a lot safer too because it's a lot harder to get IDs than it is to get a school uniform," Ryan said.
One of the big complaints the students have about our uniform is that it's too expensive, and although you can wear reused uniforms no student wants to wear old uniforms for four years. 
"I think it's pretty expensive especially since our skirts are $50 each and our shirts can be up to $40 to $50," said sophomore Fiona Massey.  
Massey thinks the dress code is fair for the most part but there are some rules that are unreasonable. 
"I think that it's sort of perfectly strict, except for we can't wear sweatpants and stuff and that we can't wear spirit shirts in the middle of the week. I feel like that's a little bit too strict to only be able to wear them on Fridays."
Some have also said that the dress code helps prepare students for actual jobs and the requirements that some may have with the dress code. 
"Most jobs require some kind of dress code and there are some that don't require any at all. Most jobs that I've been involved in have had to have a dress code. Even when I was working in a grocery store, I had a uniform," said Arjon. 
There are also students who believe the uniforms are good for the students and the school.
"I think we should have uniform because it keeps everyone looking good," sophomore Benjamin Blume said. "It makes the school more formal and more professional, and it helps students prepare for a work environment."
Overall, most of the students don't see the school uniform as a positive thing and think its too strict and should be more lenient. 
Leave a Comment
About the Contributor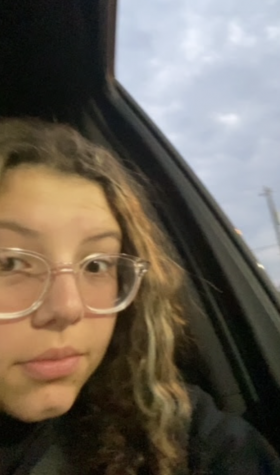 Brooklyn Slie, Staff Writer
My name is Brooklyn Slie and I'm a sophomore here at Lamar. I'm really focused on photography, graphic design, and some writing for Lamar Life. I'm...