Lady Texans First Team District Highlights
A look inside the Lady Texans volleyball team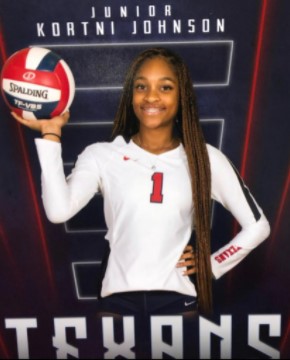 The Lady Texans have been working extremely hard to be successful this year and it has definitely paid off. 
Two juniors on the winning district team, Paisle Comeaux and Kourtni Johnson, talk of the efforts that helped them accomplish their win.
"Well for starters, we had to rebuild our whole varsity team because last year our varsity was just a bunch of seniors so we had to develop chemistry and that took some time. We had to work on building connections with everyone on and off the court because you have to make strong connections in order to make the team flow. Without that, you are basically setting yourself up for failure," Comeaux said.
Comeaux started running track but started her path in volleyball six years ago because of her sister.
"My sister asked my mom if she could try volleyball and she signed us up for a clinic and afterwards, that day as we were about to leave the clinic they told us about tryouts so I asked my mom if I could try out and she said yes because she didn't think I was going to make the team. I tried out and I made the team and just kept going from there. I was 12 at the time," Comeaux said.
Comeaux's teammate, junior Kourtni Johnson also shared her elation at the district results. 
"It felt great! I was excited when I heard the news. It was refreshing like 'Wow my hard work paid off.' It helped me build my leadership skills. Next year, I'm really striving for myself and my whole team to work hard to make it through the first round of playoffs," said Johnson, who also plays club. "I play for the Houston juniors volleyball club.I've been working really hard to achieve my goals and sophomore year was my first year on varsity. Ever since then, I've really been working to get to the top,"Johnson said.
The road Comeaux had to traverse to get to districts proved to be a little difficult at first.
"I was benched for half of the season so that messed with my self confidence and I would go home crying to my mom all the time. My mom put me in lessons and I would go every week to my lessons for an hour so that I could earn my spot on the court. Eventually, my coach allowed me to play during the second half of the season," Comeaux said.
Comeaux wasn't alone, with Johnson also facing similar obstacles.
"There hasn't really been a time that I wanted to quit but I was struggling with school and volleyball and balancing the two. Volleyball is really time consuming so there were times that I would be struggling but I've never wanted to quit," said Johnson.
Despite the struggles, there seems to be just as much to appreciate.
"Our coach is Coach Brent. She's the best! Her first year with us was my sophomore year, so she was really new to everyone but she fit in really well with us. She's nice and she's fun but she also knows when to hold us accountable for what we need to do. It's like a sisterhood on our team. We always argue and bicker but at the end of the day they are like my sisters and we're always there for one another and we're a team," Johnson said. 
The praise for Coach Brent was shared by Comeaux who also talked to the familial nature of the team.
"She is more than just a coach. She's kind of like a mother figure. She would check up on us to make sure we were doing well and if we needed to talk to her about something, she was all ears. I was personally able to bond with her on deeper level than just a coaching level because when I was having my moments she was there for me and she would make herself available to talk to me," Comeaux said.
Despite the victory at districts, the team is still ready to put in the work to improve themselves and adapt to the changes coming their way.
"We still have a lot of work to do and especially next year since we'll be losing seniors so we're going to have to find someone that's going to step up and fill that void in the team. We're still going to continue working hard, even in the off season. We're going to be in the weight room, working out and doing strength and conditioning. Some of us will continue to play club, so as to hold everyone accountable to do their part to make sure that we come back stronger," said Comeaux. 
Leave a Comment