Mejia stays strong after loss
A senior wrestler missed out on competing at a state competition in her last year of high school, due to the loss of her father.
"I had to back out of districts because my dad passed away in January, literally the week we were coming back to school. It was really hard for me because I didn't expect him to pass that soon but I am glad he did because he is no longer in any pain," senior wrestler Allision Mejia shared.
To Mejia, her dad was her number one supporter and having him no longer there was one of her obstacles that she had to face.
"Ever since my freshman year he would always go to my matches and he never missed a tournament; he was that sports dad. It was really weird not having him there. It made me really sad seeing other daughters with their dads because that used to be me," Mejia expressed.
But since Mejia was going through trauma she only shared and talked about it with her wrestling coaches.
"It took her awhile to tell me that her dad was sick and when she mentioned that she knew he is going to go eventually. From there I tried being there for her, like supporting her because she needed somebody obviously," Wrestling Coach Corina Reyes said.
Mejia found out that her dad was going to pass on her birthday last year.
"October 12th, 2019, I found out that he was going to die because the day before he was sent to the hospital and we had to cancel my party. We then found out that he was going into hospice treatment where nurses and doctors would come to our home," Mejia noted.
Her coaches took notice that something had changed in her behavior since hearing the news about her dad.
"She immediately wanted to quit the team but of course I didn't let her and I told her that this was going to help her if anything. I didn't force her to stay but I did encourage her to stick with wrestling even if she wasn't going to participate," Reyes shared.
The loss of her dad would even affect her academics and her emotionally off and on.
"When he passed I didn't want to do any of the work and in the middle of the day I would have a few mental breakdowns because I would just get really sad sometimes. Like one day I am okay and happy but then something would just hit me and I would just melt down," Mejia expressed.
Now afterwards her life at home is different and she has had to adapt to a lot.
"It's less chaotic at home but it was weird adapting to no more hospital bed nor wires everywhere at home and sometimes even now I will catch myself walking up to the couch," Mejia said.
Mejia sees her future now and she wants to be there for her family but also wants to follow her dream of being a wrestling coach.
"I have been offered wrestling scholarships but I want to stay home and stay with my family. I need my family the most but knowing my dad he wouldn't want me to hold back from anything," Mejia shared.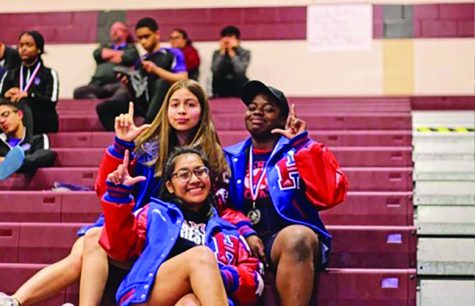 Leave a Comment