STEM Research Club helps students learn outside of the classroom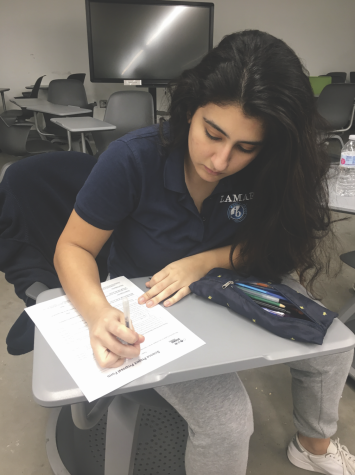 Not many people know about this club, but those who do think it is a great addition to the school. The STEM Research club is a newly created club, sponsored by sophomore math teacher, Hector Otano-Vega. 
It was started after some students heard about Otano-Vega's experience in STEM research. 
"The club was an idea that came from the students. I have talked about things I have done in the past with students and I mentioned that at a previous school I taught at had a research club, then some of the students came to me and asked I could sponsor the club," Otano-Vega said.
This club is a good opportunity for students to learn outside a classroom setting and pursue further learning.
"I joined the club because at the end of end one his classes, he mentioned the club and I decided to join because it seemed interesting and I have never been a part of a research club," sophomore Eesha Vettical said. "The research club has changed the way I look at life and showed me that no matter what questions you have, you can always find answers."
Even though it is called the research club there is more they do than just research. Their goal is to enter their research projects in the Intel Science Fair. 
"I am working with my brother on a project about deep space radiation. We are going to see how our  current technology can hold up under deep space radiation. We are trying to enter the Intel science fair next year and our goal is to finish our projects before next year, so we can attend the fair in Arizona," said sophomore Lauren Koong, who is the president of the club.
All of the students have different research projects but still work together and help each other out.
"In the club, we usually have an assignment and it's different per person because we each have our own projects, so we usually sit in a circle and talk about where we need to be in our projects and then how we think about our progress. My project is about how depression affects sleep. So far I have done research on previous projects that are similar to mine," Vettical said.
Leave a Comment