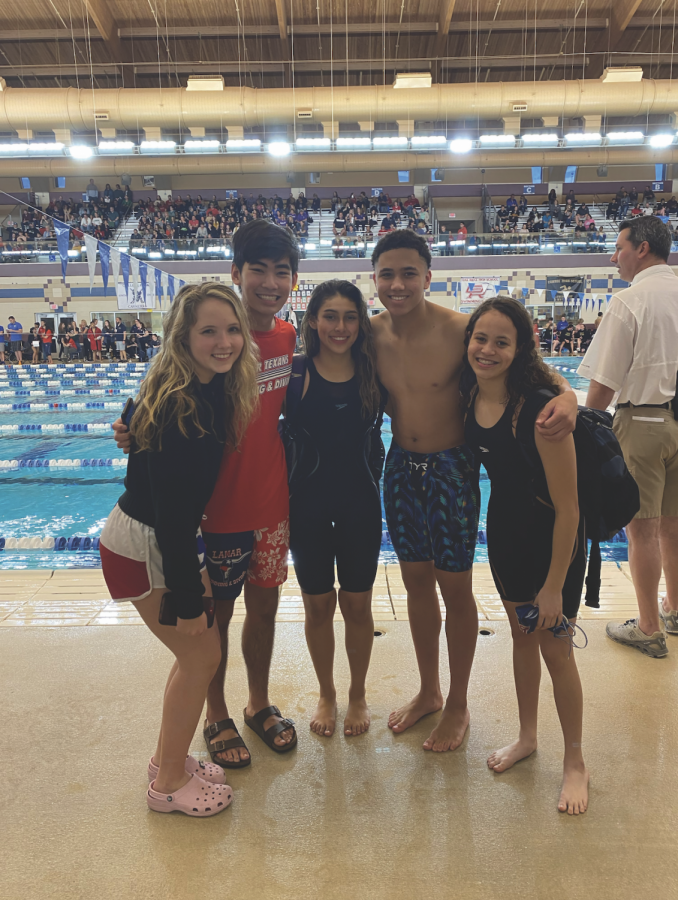 Swim is recently wrapped up their season after the regional meet. For many of the seniors this will be the last time they swam competitively. Coach Stephen McDonald and some of the senior swimmers talked about what made this season stand out.
The team won first for the women and second for the men during their district meets finishing the season strong.
"We were satisfied, not completely but we performed well," explained McDonald. "What we base swimming off of is lifetime bests. At the end of the season a lot of swimmers on the team were hitting those lifetime bests. The girls won the district meet and the boys placed second behind West Side."
Senior Jaiden Lugo who swam in districts and qualified for regionals felt the team did well in their penultimate meet of the season.
"Districts went pretty well, we finished second overall, we were close to a lot of life-time bests, so that was good," Gaddis said. "But, we were not as prepared as the other teams. I think they deserved it more than we did because they came in ready to go."
With such a great showing by the team as a whole McDonald was recognized by being awarded the swim coach of the district.
"Winning swim coach of the district, it is nice to be recognized but it depended on what the kids did," McDonald said.
All of the swimmers had nothing but good things to say about McDonald. Senior Madeleine Baird the best overall swimmer in the district meet felt that McDonald was always there to encourage his swimmers.
"Coach Mac has helped me because he has always believed in me and he is really encouraging to his swimmers," Baird said.
The season was not all smooth sailing, the swim team had to adjust to the new pool facility and work out all of its trouble spots throughout the season.
"One of the big challenges was moving into the new pool and getting used to it, it was worth it though," Baird said. "The new pool is really nice it is big and spacious it clean and nicer than the older one."
Lugo felt similarly having nothing but good things to say about the new pool facility.
"The new pool has been a great help," Lugo said. "It isn't as old, it's a much nicer pool, it feels faster because it is deeper. It just allows us to compete at a higher level."
No swim team members qualified for the state meet which is not typical for the team. But the team was not held down by that and hope to improve for next year.
"Regionals were similar we had an even better percentage of lifetime bests which is what you are always striving to do but we did not qualify anyone for the state meet," McDonald said. "That is the first time that has happened to us. But we are very proud of what the seniors have accomplished this year."
Lugo had similar things to say on the season as a whole
"Overall the team did a lot better than last year, last year we lost because people went slow last year and didn't have the drive to perform," Lugo said. "This year almost everyone did fastest times. I think the team has improved from last year we have a lot of freshmen coming in and our seniors took it a lot more seriously than they did last year so everything was a lot better."