A totally unbiased review of Harry Styles' 'Treat People With Kindness'
Harry Styles made 2021 a fantastic year already with the release of the music video for his song 'Treat People With Kindness', abbreviated as TPWK.
Now I must preface this all by saying that I am a massive Harry Styles fan and have been for years. However, I am not afraid to call him out on things, so it won't be too biased.
The song itself was admittedly hard to get into. Track 11/12 on the Fine Line album, it was 12th place in my ranking after the first time listening. It only started to move up the ranks after maybe the fifth listen but it is now in my top three for that album. It features a choir, a catchy chorus, an instrumental you can really dance to and a few questionable lyrics such as "and if our friends all pass away/it's okay it's okay". That alone made me widen my eyes a bit and the placement of it right before the title track 'Fine Line' gave me whiplash ('Fine Line' is most definitely not a dancing song).
In the music video for the song, which is entirely in black and white, you see Styles alongside actress Phoebe Waller-Bridge in matching Gucci outfits while performing a fun dance that had myself and my friends screaming upon seeing. Have I tried to learn the dance yet? Yes. Have I gotten it down yet? No. Will I pray that Styles will do the dance at the concert next year? That shouldn't even be a question.
The video opens with Waller-Bridge behind a bald man in an office while sporting a sparkling diamond-patterned sweater vest underneath a nice suit with a bow tie and a flared pant- a Styles favorite. She exits the room and the camera pans down to an old-fashioned looking sign stating the song name before going down even more and revealing Harry Styles himself in the same suit and vest combo. The bow tie makes me think of his second Met Gala look where he wore a massive red bow tie and I will admit that when I first saw him step onto the screen, I let out a rather loud scream and inched closer to the screen.
Throughout the video, you see Styles and Waller-Bridge dancing together and separately around a stage and on top of tables. Styles' dancing is reminiscent of his minimal choreography from his One Direction days and looking back on clips from the movie One Direction: This Is Us where he and his former bandmates were adamant on not doing full on routines is a bit bittersweet. Waller-Bridge's dancing alongside Styles' is great and the mood they capture in the video is infectious.
The video ends with two very important things: Waller-Bridge dipping Styles and the closing lyrics "we can treat people with kindness/ find a place to feel good". I find these lyrics and the overall message of the song to be something that we all should strive to follow more this year, especially after the tumultuous events of 2020. After watching the video for the first time and listening to the song again, I made my only new year's resolution to follow Harry Styles' advice and treat people with kindness, and I think we all should.
Leave a Comment
About the Contributor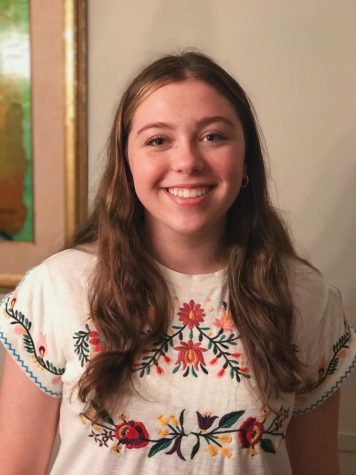 Kathryn Stone, Assistant Editor
Senior Kathryn Stone is in her third year on staff as assistant editor for Lamar Life. She enjoys writing opinion pieces (her Cats review is her favorite...