Lane is awarded scholarship to Rice University
Robert Lane III seems like your average American teenager at a glance. Lane III enjoys playing on his XBOX with his friends during his free time while also being a baseball manager for the Lamar Texans.
Way before Lane III was in high school, his main goal in life was to become valedictorian or salutatorian. From a young age, Lane III worked toward this goal alongside his mother who instilled education into his everyday habits.
"From a young age, my mother always instilled in me the values of putting in work will benefit you in the future. That's when I really picked up the academic aspect of learning such as solving puzzles and mathematics," Lane III explained.
Surrounded by an academic environment with various learning opportunities, Lane III picked up an interest in engineering which would later become his passion.
"When I was 5, my mom bought me my first Lego set. I grew so attached to building Legos and I spent hours on the weekend constructing 2,000 piece Lego sets," Lane III reminisced. "Entering middle school I wanted to continue that passion so when I heard my engineering class added a robotics elective,  I signed up and that's when I really started enjoying the engineering side of building things."
At Lamar, Lane III continued to pursue his interest in engineering by taking multiple electives surrounding the industry for 3 years. The only problem was that the classes were not weighted on a 5.0 scale, which affected his GPA. This ultimately led to him missing out on his life time goal of finishing at the top of his class.
"I was devasted," the high school senior exclaimed. "I took my engineering class for 3 years and I assumed it was a 5.0 class, but it was actually a 4.0 class. That did tank my GPA a considerable amount. Although it hurt, I saw that failure as there's nothing I can do about it now and I am just going to go into my senior year and I'm not going to let that deter me from my future."
Although Lane III failed his childhood goal of becoming a valedictorian, his journey along the way led him down a different path.
"I was beyond happy. It's amazing because I don't have to worry about college debt or anything like that or stressing my parents out about them having to pay out of pocket," Lane III commented on his initial reaction on finding out he was accepted to Rice University on a full-ride. "I still remember, December 1st, that's when decisions came out. I was very nervous but when I opened my application I saw the lit up congratulations sign and I knew my hard work paid off."
With this reward and journey, Lane III now had a new mindset on life and the unpredictable obstacles it will throw at you.
"Don't be afraid to do something that you don't think will pay out in the long run if it's your passion. If you're motivated to do that thing, that will carry on into the future. Even if you do not reach your goal, you can take what you learned with that experience and carry it with you into the future," said the soon-to-be Rice Owl. " Even if I knew engineering would have hurt my GPA from the beginning, I still would have taken it because that was my passion is."
Entering Rice University this fall, Lane III now has new goals set such as becoming a mechanical engineer and continuing to excel in school. After the rollercoaster senior year Lane III experienced, he knows that as long as he works hard, life will reward him in some way or another.
Leave a Comment
About the Contributor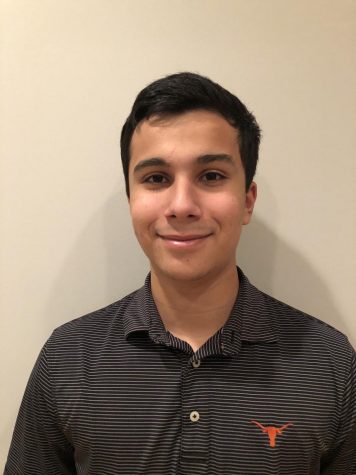 Ethan Martinez, Staff Writer
Senior Ethan Martinez is in his final year of high school as a social media manager and a staff writer. He enjoys writing sports stories and editorials...