Volleyball sub-varisty teams finish strong
The freshman and junior varsity volleyball team has successfully finished their season, with JV finishing second in the district overall. 
"I think that we did really well as a team," said sophomore Joy Parazette, who plays as an outside hitter and middle back. "There were a lot of new people on the team and I think on the first day we all bonded really well. We just pushed through games and it was a really good experience." 
The JV only had one loss in the district games, which encouraged the team to dedicate themselves even further to achieve these end results. 
"They did a good job of focusing during practice to improve," coach James Goolsbee said. "We had a short season, so it was important for us to stay focused to take advantage of the short time we had to improve."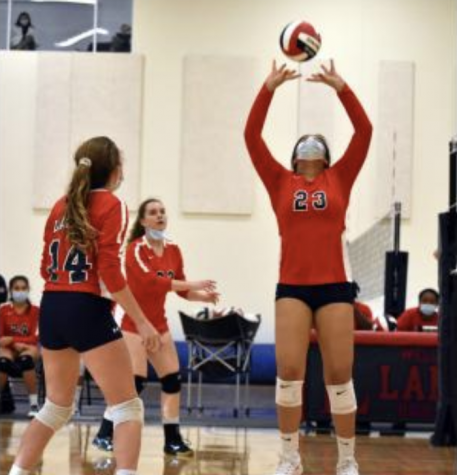 The Covid-19 pandemic, which cut the season shorter than usual, meant the volleyball team had to take many precautions to make sure the team could safely play.
"Playing with the Covid restrictions made things a bit challenging for us and really put a strain on our parents. They would have to drive the girls to the games and sometimes not be able to come in and support," freshman coach Tawonna Cage said. 
Despite the challenges the program faced with this new situation, both teams were able to quickly adjust to the safety measures, which included wearing a mask on court.
"We had a pretty good season. It was different at first," sophomore Paislē Comeaux said. "It was hard constantly playing with a mask on but I was able to get used to it." 
As well as adjusting to new circumstances, the team was also successful in working together and building their teamwork skills. 
"One thing my freshman team did well this season was sticking together," Cage said. "No matter what, I can truly say they were a team."
Leave a Comment