Beginning Teacher of the Year: Wendy Argueta
Being a great educator must run in freshman biology teacher Wendy Argueta based on her award for Beginning Teacher of the Year.
Argueta has been with the school for three years, though she's been teaching for much longer.
"I've been teaching my entire life," Argueta said. "Whether it's tutoring or TAing and in college I finally had the opportunity to take an education class. Right after my first class I called my best friend and I was like "I know what I want to do, I found my passion- this is it!""
This passion for teaching others has been recognized by her students and is reflected in the way she goes about her lessons.
"She is very fun and shows how excited she is to teach and it definitely gets students more engaged," freshman Julia Morstead said.
The engagement comes from the dedication to making sure all of the students, virtual or in-person, are getting to build a connection with Argueta and are learning the content in the best way possible.
"One of the big things this year was building those relationships with the kids," Argueta explained. "I just treated [the students] like we were having a normal conversation and became a little more active on Instagram (@missargueta_). I did kind of mess with [the students] a little bit. It's cool to see that even behind the screens there's a relationship that can be built."
Building relationships with her students has allowed for them to become comfortable and understand that she wants to support them.
"She works really hard to let her students know she is always there to help," Morstead said.
Following the announcement of Argueta receiving the award she was made aware of how much of an impact she has had on students.
"It was really cool seeing the DMs from my students and the messages and them coming to see me to say 'thank you'," Argueta said. "I even got some from the students I didn't teach. So there's an impact I've had on them. Whether it's like they're passing in the hallway and I say 'hello' to them- those little things matter too. It just kind of let me know that like everything I'm doing, they see it."
Even the passing interactions make the students feel special.
"Seeing her at school, she sounds so excited to see you every time," Morstead said.
The award has made the students and staff see how Argueta's love for teaching and connecting with her students has fostered an encouraging and uplifting environment for those inside and outside of her class.
Leave a Comment
About the Contributor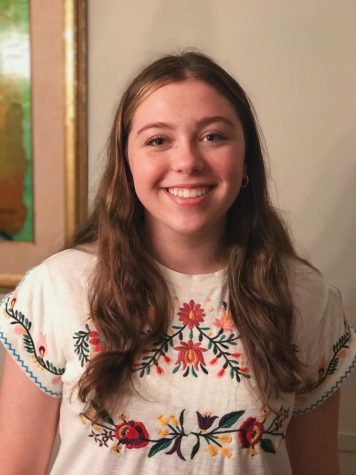 Kathryn Stone, Assistant Editor
Senior Kathryn Stone is in her third year on staff as assistant editor for Lamar Life. She enjoys writing opinion pieces (her Cats review is her favorite...