Bojack Horseman: Optimism in the face of adversity
In today's modern culture, one of the many responsibilities of modern media is to address or spread awareness of certain issues or trends taking place in our society. Unfortunately, a rising trend in today's youth is that of depression and mental illness, which has skyrocketed to alarming rates in the past decade, due to numerous factors.
And while modern media and pop culture have attempted to destigmatize or bring attention to this issue, particularly in the form of tv shows and movies, a lot of the content portrayed is often inaccurate or largely exaggerated, to the point where the writers of these shows almost seem to be glamorizing this serious issue that is youth depression (yes, I'm talking to you, "13 Reasons Why").
This method of in-your-face entertainment is counterproductive, and if anything it only worsens the stigma that's currently clouding mental illness.
For this reason, it can be quite rare to find a piece of modern entertainment that is acutely aware of the actual struggles of coping with mental illness, and does a good job of presenting these issues in a form of entertainment that's relatable, comforting, and informative.
Bojack Horseman is a Netflix original show about a half-man, half-horse actor who used to be famous in the 90's, but now has a washed up career and as a result relies on destructive behavior and addiction to cope with his increasingly irrelevant Hollywood presence and cynical depression.
As absurd as that might sound, this cartoon is one of the few shows that accurately portrays what it's like to be depressed or caught up in endless cycles of destructive behavior. In short, it understands how humans work, which is saying a lot, considering the show is about animals.
To give some more context, the show really revolves around five main characters, despite the title of the show. We have, of course, Bojack, who constantly struggles with ego, substance abuse, and the fear of nihilism; Mr. Peanut Butter, a yellow lab who's also a wealthy actor in Hollywood with an unrealistic and almost annoying sense of optimism; Princess Carolyn, a Hollywood agent who uses her work to keep herself distracted from her growing discontent with life; Diane, Bojack's biographer and author whose high expectations of herself and others constantly weigh her down, resulting in a state of depression and lack of meaning; and, Todd, a lazy, twenty-something who sleeps on Bojack's sofa, who despite his current situation, always finds a way to be happy, despite the absurdity of his present circumstances.
Admittedly, the first season of the show doesn't live up to the description I just gave it. Much of the first episodes focus more so on it's humor and wit than subject matter, and you kind of have to be willing to stick with it.
Towards the end of the first season, however, we end up seeing the show switch narratives as it starts to navigate the stresses and anxieties of life, with episodes now ending with more confusion or larger questions.
The show starts to have more and more loose ends and unresolved conflicts, which is very much parallel to how most of our lives turn out: We don't always get a happy ending for everything, we live with our regrets and mistakes, and relationships aren't always resolved. Behaviors start to crop up that are immediately familiar, such as a craving for validation, one's inability to grow, hollow desires, narcissism, pessimism, loneliness, desperation, etc.. Perhaps we recognize these behaviors because we ourselves act like that, or perhaps we see it in others. Regardless, it's relatable, and it's real.
What really makes this show stand out is the fact that it does not romanticize these behaviors, nor does it immediately condemn them. It paints an honest picture of multifaceted people, people with the capacity of both selfishness and cynicism, and love and forgiveness.
For example, Bojack is an extremely messed up character, one whose mistakes would easily cancel him if he were to exist in our modern reality. There are times throughout the show where you feel truly disgusted by the things this fictional character has done to himself and others (to the point where if it were a live action, some scenes would be unwatchable). Yet despite that, we can still have some level of sympathy, because he isn't a one dimensional character who's simply evil – he's a broken person who can barely remain afloat in the waters that are life, being constantly pulled down by his insecurities and existential dread.
Despite having depicted a cynical and depressing show, what really makes this Netflix original special is that it still pushes a positive agenda. While many may see a dark and pessimistic world, the show's foundation relies on its ability to counteract nihilism with optimism, and to preach forgiveness, something that becomes evident when you look at the dynamics of each character, from depressed and hollow Bojack to cheerful, unrealistic Mr. Peanut Butter.
The show's ability to accurately portray mental illness while balancing it with witty humor, satire and even meta-commentary make it truly special, something worth analyzing and discussing, even re-watching (I wouldn't recommend watching it all in one go, as it is still a very heavy show).
And perhaps I'm looking far too much into the show's inner meaning; perhaps none of what I mentioned above was intended by the writers of the show but as Todd would say: "Isn't the point of art less what people put into it and more what people get out of it?"
Leave a Comment
About the Contributor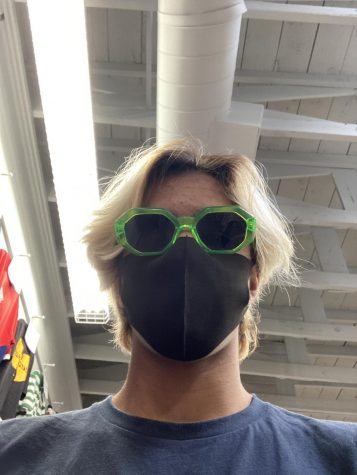 Mikal Nazarani, Copy Editor
My name is Mikal Nazarani, and this is my second and final year at Lamar high school. I was born in Houston but spent half of my life living in Canada....