True Heroes: Thanking the custodians
One of the most underappreciated people at school are the custodians. They play a significant role in keeping the school running smoothly, yet are often overlooked.
"The custodians are like the grass roots that make the flower blossom, that gets all the nutrients," Jones said. "But unfortunately they are overlooked at times."
Every day, the custodians work hard to keep the school clean, which has been especially important during the pandemic to stop the spread of COVID-19. 
"I sweep the hallway, clean the classroom, mop, and vacuum," said custodian Maria Arias. "And clean up the areas during lunch time and breakfast time."
Not only do our custodians take care of cleaning the campus, but they also help set up for all major events, from sports banquets to LHS Fest. 
"They are the invisible pieces that hold everything together," said director of communications Denetris Jones, who works with them during events. "If the custodians weren't there to help me, there would be no way I'd be able to do all that by myself. And then their attitudes are just absolutely wonderful! They're always positive, they're always willing to help, they love the kids, and they never complain about anything. They are just always available and ready."
Although the custodians are often not recognized for all of their hard work, students are making an effort to display their gratitude for them. The Student Council recently organized a Custodian Day for the custodians to thank the custodians for their dedication.
"They provided breakfast for them, we provided flowers for them," said Jones, who is the Student Council advisor. "They were so happy just for someone to just recognize and to appreciate them."
There are many things that students and staff can do to make life easier on the custodians.
"Please help us keep this campus clean," Garza said. "It is a big campus, since now we have a parking garage too. It really would help a lot if they would put the trash in their place instead of just dumping it out of cars. Clean up after yourselves."
Leave a Comment
About the Contributor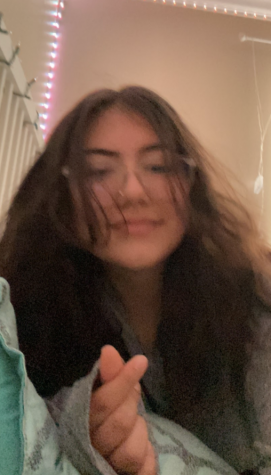 Brooklyn Carmona, Staff Writer
Hi! My name is Brooklyn Carmona, and I am from Houston Texas. My birthday is October 20th, 2004, making my zodiac sign a Libra. I'll be graduating from...