Lamar Legacy: 4 people, 3 generations, 2 names, 1 family
One of the most unique aspects about Lamar is how students graduate feeling like a family. However, for the Church-Shilstone clan, Lamar is literally their family.
Having sent three generations to the same school, their extensive legacy began with Charles Church, class of '58, passing onto Max Shilstone III, and then to his two children, Max Shilstone IV and Charles Shilstone, who are current students at Lamar. 
"I think to be able to send your children to the same school that's got memories for not only the parent but the grandparent says a lot," said Shilstone III, who graduated in 1973. "Both my wife and I are very involved in Lamar; we do it because we want to support our children but also we are very fond, especially me having gone there, of the memories and to be able to give back to the school when it gave so much to me."
Coming back to the same school as a parent instead of a student allowed Shilstone III to see the many changes that Lamar has undergone.
"The school now is different with modifications," Shilstone III said. "A lot of what I remember – they don't really do anymore. Two of the things I really enjoyed was eating lunch on the front lawn, which is not allowed anymore. The other thing was we parked on the west side of the school and the mornings were a big deal where we would all park close to each other and we knew each other and we would all converse and socialize before going into school."
Having so much legacy at Lamar is incredibly unique. 
"I think it's really cool having so much legacy at Lamar," said sophomore Charles Shilstone, the youngest member of the Church-Shilstone family to attend Lamar. "I remember coming here in elementary school for a reunion with my dad. My grandfather tells me how different it is now and the way the football team and everything was structured back then."
Along with school legacy, there is also a legacy of Lamar football in the Church-Shilstone family, starting with Charles Church. 
"I was a football player and I think my favorite memories were of Fred Pepper, who was our head football coach," Church said. "We went to the state quarterfinals in '57, '58. We used to have the best team in the city."
Continuing the tradition, senior Max Shilstone IV followed in his grandfather's football footsteps.
"My grandfather was definitely one of the biggest factors in why I continue playing football," the senior said. "When he was playing for Lamar, he wore the number 55 and I wanted to do something to honor him, so in my athletic career at Lamar, I also wore the number 55."
The tribute to Church's football career was nothing short of touching for the patriarch.  
"I'm really proud of Little Max and his football accomplishments at Lamar," Church said. "I was extremely gratified to see that he got that number. I still have my 55 jersey from my senior year and to see him out there playing on the field with that number made me awfully proud."
While the future is uncertain, Shilstone IV hopes to continue the tradition of legacy at Lamar.
"It really depends where I go after college but eventually, it would be great to have a fourth generation at Lamar, so it's definitely something on my bucket list," said Shilstone IV, who will attend Trinity in the fall. "I think the community aspect of Lamar makes it what it is today and I know people like Coach Lindsey and Ms. Graves create that environment at Lamar so it's something that I know will continue for decades."
Charles Church, class of '58 (left) and Max Shilstone IV, class of '21 (right) playing for the Lamar football team in their respective number 55 jerseys
Leave a Comment
About the Contributor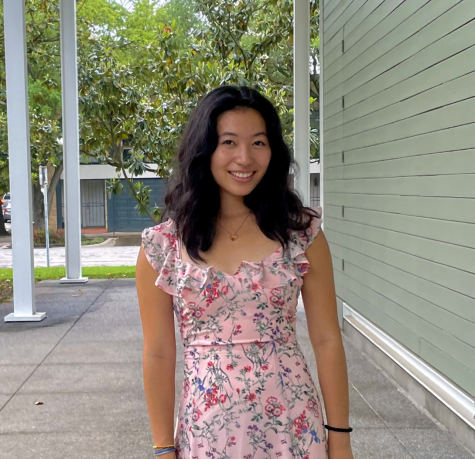 Lauren Koong, Editor-In-Chief
Senior Lauren Koong is in her fourth and final year as Editor-in-Chief of Lamar Life. As a journalist, she is excited to use writing to impact her community....