Turn On, Tune In, Tap Out
Seven students have accomplished a goal many artists only dream of doing: having a piece show in a museum. 
Seniors Mason Hartley, Emilia Sterkel and Natalie Mafridge, juniors Grace Jones, Eliza Crawford, and Kathryn Stone and sophomore Levi Bicas all had works of art chosen to be a part of the show "Turn On, Tune In, Tap Out" at the Contemporary Arts Museum Houston. The show exhibits pieces that answer the prompt "How do you define 'the screen', does 'the screen' protect you or hold you back, and how can you crack 'the screen'?"
"My piece hangs on the wall like a tapestry," said Crawford. "I used magazines, string, paper, blindfolds, and a wooden rod. It symbolizes how "The Screen" can blind us from reality and how we should open up our eyes and look away from "The Screen.""
The prompt was set by the Contemporary Arts Museum's Teen Council, a group of Houston-area teens who work to curate shows and get involved with the museum. The Teen Council puts out an open-call for an exhibition every other year with almost no boundaries to entry. 
"It is easy to enter and has very few rules – students are free to approach the subject matter in almost whatever way they feel is the most effective, including large scale sculptures and installation work," explained art teacher Robert Stiles. 
This freedom of approach allowed for students to let their creativity shine. 
"My piece is a computer monitor and a computer keyboard with acrylic paint all over and cut up teddy bears coming out of the computer screen," said Jones "I used acrylic markers, a broken computer monitor and keyboard, wire, and teddy bears."
"My piece is a man made of chicken wire struggling against a screen wrapped around his head that is composed of blue cellophane emanating out of an old iPhone," said Mafridge. "There are wires made of yarn going through his body and plugging him into a framed socket on the wall."
With the works of art comes the meanings behind them, which for this show might be the most important aspect. The prompt this year was conceptual, which meant the meanings had to take precedent over the physical pieces.
"It is conceptual so students have to wrestle with a complex theme or concepts and figure out the best way to approach the subject," said Stiles. "Initially this is the biggest challenge."
The students rose to this challenge and crafted their pieces from personal and relatable experiences. 
"It symbolizes how "The Screen" can blind us from reality and how we should open up our eyes and look away from "The Screen.,"" explained Crawford.
"My piece illustrates the platform that technology provides and the "evil" corners of the cyber world where many hate crimes happen through cyber bullying," explained Jones. "It also contrasts with the positivity that could be spread through technology and encourages viewers to be that change and positive presence on social media."
"I was going through some trouble with recently coming out as transgender," explained Bicas, whose piece uses paper sectioned into different layers to show his isolation. 
The pieces don't come with the artists' explanations attached which grants viewers the experience of coming up with one themselves, resulting in the classic long-stare-into-the-artwork-for-10-minutes. These stares are common at the show, with museum-goers all searching for an understanding of the works that have encapsulated the experiences of many. 
"It was very cool to see my work in a museum and watch people view and react to it in person," said Mafridge. 
Students were not the only ones excited.
"Seeing student artwork on display in a gallery where some of the greatest contemporary artists of the twentieth century have shown their work is quite a thrill," said Stiles. 
The show is testament to the hard work and creativity of the artists, who spent anywhere from one day to two weeks completing their pieces. 
" It was unbelievable," said Jones. "I felt very accomplished and like a serious, professional artist with my piece on display."
Pride was not the only emotion felt surrounding the show.
"I really didn't expect [my piece] to be selected," admitted Hartley. "I haven't been an avid artist for long and I felt that a lot of other pieces were different and better than my piece. I was super surprised to see that email in my inbox."
The greatest part of this experience?
"I think that just being able to be accepted as a newer artist and make it into a museum is amazing," said Hartley. 
'Turn On, Tune In, Tap Out' will be showing until the beginning of August, 2021. Admission is free. 
Leave a Comment
About the Contributor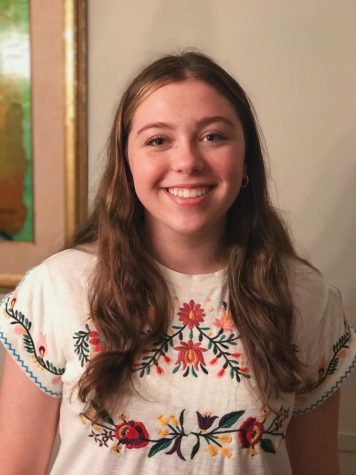 Kathryn Stone, Assistant Editor
Senior Kathryn Stone is in her third year on staff as assistant editor for Lamar Life. She enjoys writing opinion pieces (her Cats review is her favorite...