Ana Aguirre: From first generation student to Posse Scholar
If anyone is a first-generation college student success story, it's senior Ana Aguirre. Despite personal hardships and the added COVID stress factor, Aguirre excelled beyond her wildest dreams in the college application process. After several rounds of nerve-racking interviews and application phases, the Posse Foundation, which "identifies, recruits and trains individuals with extraordinary leadership potential", selected Aguirre for the prestigious title of Posse Scholar and a full-ride scholarship to the University of Virginia.
Aguirre says getting the scholarship is the most challenging thing she's ever done, as it pushed her really far to show herself to a group of people that she didn't know and put herself entirely on the line to get rejected or accepted. Throughout her academic journey, Aguirre faced unique barriers that made her outstanding accomplishments all the more impressive. 
"Being a first generation student, being dyslexic, and going to like a predominantly white elementary school meant being told at a young age that I was different in many ways," Aguirre said. "It was really hard, but I'm still here and I overcame all those struggles. I know others in similar situations can too."
Aguirre's dyslexia has been hard for her to overcome since she was a child but she maintains a positive outlook.
"Having to compare myself with other students in school and their performance was one of the hardest things to deal with. However, I learned to see that I'm doing the best I can, and that's the only thing I can do," she said.
According to the Posse scholar, the University of Virginia is a perfect match for her aspiring career.
"My plan for the future both college and career wise is becoming a nurse in the nursing program at UVA, which is one of the few schools that has a designated college for nursing that covers many different paths to nursing," the senior said.
Aguirre was encouraged to apply to the Posse scholarship by EMERGE, a free, nationally-recognized program for first-generation and low-income high schoolers that helps them plan their post-high school life at a higher institution.
"I applied to EMERGE in my sophomore year, and they are amazing," Aguirre said. "They help you throughout the whole college process and guide you to where you need to go. They are a helping hand; they will not do everything for you, because that's up to you, but they will help you and introduce you to internships, jobs, scholarships, and more. They take high school kids and send them to colleges they never dreamed that they would be able to go to: they will send them to Ivy League's if they try hard enough." 
Aguirre says the biggest inspirations and supporters of her academic career have definitely been her parents and siblings.
"My family has been there through the best and worst of it. They were there when I learned I had dyslexia, and they were there when I got the call and was told I was going to go to UVA under a full tuition scholarship," Aguirre said. "My family is a low-income family since I'm first generation, so being told that you mean something and that you can do something by getting a merit scholarship is amazing; it's the most rewarding thing to be told, 'we believe in you', that 'you deserve this'. I would not be where I am without my family."
Though Aguirre never regretted doing the scholarship and is very happy with where she's going, the uncertainty she felt in the process does not go unmentioned.
"The early decision to apply was stressful, because the scholarship is a really binding decision; it's a scholarship where if you accept, you're going to that school and there's no way out of it," Aguirre said. "The anxiety part of college applications can really take you down, but you have to fight it. Either you can fall into the darkest hole, or you can crawl yourself out of it and become stronger by doing so."
Though Aguirre's experience with the scholarship came with some additional stress to the college application process, she learned valuable lessons along the way. Aguirre says the main piece of advice she would give to other first generation students is to not give up and be self-disciplined.
"I know it's so easy just to say, 'I'm done, I'm so tired, I can't do this anymore, I just want to sleep, I just want to have fun'. It's easy to just let go of everything, but if you do, you're giving up on everything you've worked so hard for and your parents, who came from a different country to America to try to give you a life they never had," she said. "You must be grateful for that; you have to work for yourself, of course, but also to make your parents proud and show them that what they did was for something."
Leave a Comment
About the Contributor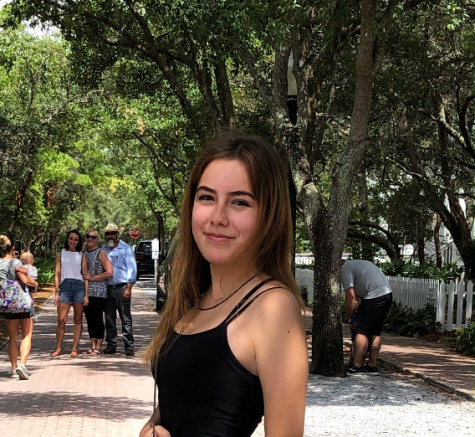 Sofia Puccini, Staff Writer
Sofia Puccini was born and raised in Houston, Texas. She is a senior and has been part of the journalism program at Lamar for 3 years. She has past experience...