From Texan to Tiger: Wilson goes to Princeton
With a 5.8% acceptance rate, Princeton is one of the most elite universities in the United States, almost impossible to get into, with students across the country vying for a competitive spot. 
Senior Mackenzie Wilson defied the statistics and was accepted into Princeton University, where she will attend in the fall. 
"When I got accepted, I was so excited," Wilson said. "I literally jumped out of my chair and screamed. I was in such a big state of shock. It just felt like everything I worked for really came to life and was worth it, all those long nights, waking up at 6 a.m. trying to finish my application."
For Wilson, Princeton was the right match for her. 
"I didn't decide on Princeton until August going into senior year," Wilson said. "I had a cousin that graduated from Princeton and I have a current cousin who's a senior there and the way they talk about it is great; they really love it. I actually got to visit the summer before my junior year and I just fell in love; I found myself taking notes during the tour. I visited three other schools and I just did not care enough to take notes and that's when I knew and decided I wanted to go." 
Having her heart set on Princeton, the application process was the next hurdle to tackle. 
"Overall, the application process was intensely stressful and anyone that says differently is lying," the senior said. "I was running on about three hours of sleep the entire college process. I would go to bed at 2 o'clock, wake up at 6 and I had volleyball – it was intense. I would definitely say that deadlines sneak up on you fast and that's going to be really stressful."
To get through the experience of applying to college, Wilson stresses the importance of work-life balance for better mental health.
"For me, it is all about priorities," Wilson said. "There are some days where I just knew I had a lot of schoolwork to get done so I had to put my social life on the side; I couldn't go hang out with my friends. But there are some other days where I was like, 'I deserve to hang out, I can't pressure myself into just deteriorating my mental health over schoolwork,' so I would go hang out with my friends then just come back and finish my schoolwork. I think overall, I had a really good social-academic life balance and I worked really hard to have that balance."
Along with taking a rigorous course load, Wilson also participated in student council as president and was a Sunday school leader at her church. 
"She's going to be a leader," said student council advisor Denetris Jones, who worked with Wilson for two years now. "She has the 'it' factor. Whatever field she goes into, she's going to change the world and move mountains because that's the type of character, energy and passion that she takes to the table. And she doesn't give up. That's what I like about her; she's persistent but she's professional."
Jones was the first teacher that Wilson told about her acceptance to Princeton.
"I was ecstatic," Jones said. "I don't think anyone on this campus besides Mackenzie deserves it more because she's such a hard worker and is very passionate about what she does. She's a great leader, thinks things through, and she always makes decisions regarding everyone involved, not just for herself. I'm going to miss her so much"
While Wilson is sad to leave high school and all her friends, she is excited for this next chapter in her life.
"I am so nervous but really excited for college," she said. "New Jersey is far but I'm really excited to be able to experience something different than what I'm used to. I'm also excited to challenge myself at a school that's clearly academically challenging and to be around people as passionate as me."
Leave a Comment
About the Contributor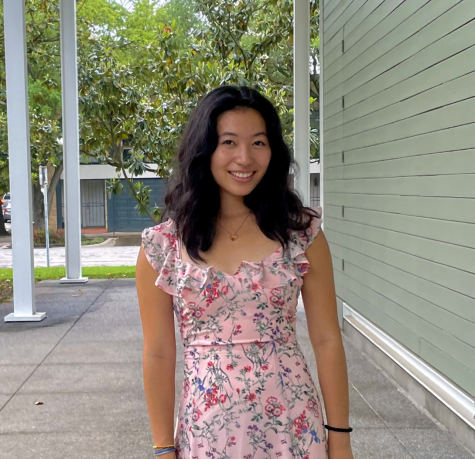 Lauren Koong, Editor-In-Chief
Senior Lauren Koong is in her fourth and final year as Editor-in-Chief of Lamar Life. As a journalist, she is excited to use writing to impact her community....