Future of Lamar's Band
Recently, many events and celebrations have been taking place in the school band. On Feb. 5, the band participated in the UIL Solo and Ensemble competition at Heights High School. 
Out of the performers, two ensembles and one soloist received perfect scores! What does this mean for the future of the Lamar band?
"Those students that went did really well and represented Lamar really well, but because of the freeze, because of COVID, and because of eligibility, out of 44 students, I only got to send 18," head band director Matthew Seifert said. "And I think we could have done so much better, and I know how to prepare for next year so much better."
The percussion ensemble consists of Travis Wittliff, Levi Bicas, Edwin Mason, Gabriel Freedman and Natasha Engel, who all received a perfect score in the first division. Marimba soloist Natasha Engel also received a perfect score in first division, and the clarinet ensemble consisting of Bryan Alvarez, Lisa Curiel and Sophia Carpio received a perfect score in second division. For the percussion ensemble and marimba soloist, this means they are going to state.
"It's a big deal for me, with this being my last year and also really my first chance to be able to do solo and ensemble finally," senior Natasha Engel said. "Just being able to get ones on both pieces I performed on, that's a big deal and there was a lot of work to be able to do it."
The performers worked hard preparing for the UIL solo and ensemble competition, even taking time out of their school day to practice and prepare for a successful performance. 
"Most lunches, I was in the band hall practicing my solo, just putting in all that work to get it ready in around a month," Engel said.
Although the clarinet ensemble received a perfect score, they won't be able to go to state because they got a perfect score in second division but are still proud of how far they have come.
"I was speechless, I didn't think we were going to make it," sophomore Lisa Curiel said. 
There are still so many opportunities for the players to win UILs this year and play at many festivals and contests. This UIL competition is far from their last performances and they have many events to look forward to for the rest of the band this year.
"For the wind percussion members of the band, we have a concert festival at Waltrip," Seifert said. "We just got approved for a festival in San Antonio for one day out and back, and we have UIL as festivals we go to compete and get judged at, then we have our own spring concert in May where our seniors get to have their last hoorah, and then we start our transition to next year."
Students are very excited about the opportunities that being a part of band has given them, such as being able to grow as a performer and being able to travel with friends.
"I'm excited about being able to travel to perform and make more memories than I did last year in the band," Curiel said.
This year, the band has had so many more opportunities than last year because of how little members were able to participate during in-person practices due to COVID.
"I honestly think that the fact we were able to make the band happen after COVID is a significant accomplishment," Seifert said. "We were completely shut down last year, and our ability to recruit and train, and make a show happen was a big step for this organization, and one we can build on and make things stronger for next year."
The Jazz band is also able to go out for the first time in a while, as they weren't able to do any concerts at all last year. They are looking forward to attending two festivals, one in Texas Southern and the other in Waltrip. In addition to the excitement of going to festivals, the band has some new fashion coming up for next year!
"HISD district fine arts department granted money to send out to different departments, Lamar Band is on the short list for both new marching and concert uniforms, which we already have a design ready to go, and we should be able to get it before marching band season starts next year," Seifert said.
The band is also in line to receive a decent amount of funding for new instruments. This would give them whole new sections of instruments that are newer and not fall apart like some that have been outside so much in recent years according to Seifert. As the band is growing with new instruments and uniforms, they hope to grow with new members as well.
"We're trying to make this band a fun, interesting place to be for everyone, and we're open to bringing back any members that may have left for any reason," Seifert said. "We're looking to grow with new numbers. We're going to try something new, and this upcoming year could be a chance for a lot of people to step into something that's growing, that's improving, and that's exciting to be a part of."
Leave a Comment
About the Contributor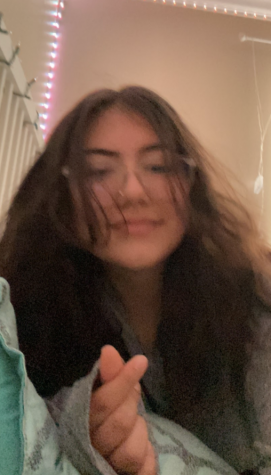 Brooklyn Carmona, Staff Writer
Hi! My name is Brooklyn Carmona, and I am from Houston Texas. My birthday is October 20th, 2004, making my zodiac sign a Libra. I'll be graduating from...