FFA sells carnations for Valentine's Day
Once again, our school's annual Valentine's Day carnation sale strikes again! The FFA organization annually puts together a carnation sale for students to buy flowers for their loved ones, friends or even themselves. 
This sale helps the FFA club by raising money for future events, as well as providing a fun valentines gift to students!
"The money goes to Lamar FFA, towards our livestock show and auction," FFA advisor Wendy Skrobarczyk said. "And we use that to help students with their animals, help run the auction- basically all the money that we earned, it benefits the students." 
This money earned can help the club in many different ways- whether it's to help with future auctions and events, or to help students care for their animals.
"Of course, earning money gives us more opportunities," Skrobarczyk said. "And so that means the students get more opportunities to either go to contests, show different animals, learn about agriculture, all that stuff."
Sophomore Eva Ryan, a member of the FFA organization, said how the events cost quite a bit of money, and this sale is a great way to help them cover it all. 
"We're going to be using it for our livestock show at the end of the year, where we sell all our animals," Ryan said. "We have to buy tents and everything like that. So, it costs quite a bit of money- it's all going back to our club."
Ryan stated how their previous sale hadn't helped them as much as they wanted it to but this sale turned out to be a success. 
"Our last fundraiser did not do as well as we wanted it to," Ryan said. "I feel like Valentine's Day flowers are a lot better at selling, so we decided to do it and it was actually pretty successful. We sold most of the flowers that we had."
This sale not only benefits the FFA but the students who buy the carnations as well.
"We thought it would be a good idea because you can buy it for not only your Valentine, but you know, you can buy it for yourself or your friends," Skrobarczyk said. "And it's just something nice that you could do for anyone who you wanted to have a good day on Valentine's Day."
Having so many gifting options is part of what makes the carnations such a fun idea. 
"They get to send it to their friends, their teachers, any loved ones- and it just makes everyone really happy," Ryan said. 
These carnations are a nice way to show appreciation to any friend or loved one that you care for. They are a cheap, thoughtful way to give a little gift to someone on Valentine's Day, because it's not exactly a fan favorite. 
"Valentine's Day isn't always everyone's favorite holiday," Skrobarczyk said. "So sometimes it's nice to maybe give your friend a nice flower, or your boyfriend, girlfriend or whoever. We just tried to help everybody out in a way that was cost effective, because the florists' prices skyrocket at this time of the year." 
Sophomore Rebecca Wolfarth is one of the students who got a flower and she agrees that it made her feel very happy and grateful.
"It made me realize how much I really appreciate her friendship, and all the little things she does for me," Wolfarth said. 
This sale was highly successful for both the FFA organization and the students who bought/received a carnation. 
"We're just trying to give everybody a cost effective option to help celebrate Valentine's Day."
Leave a Comment
About the Contributor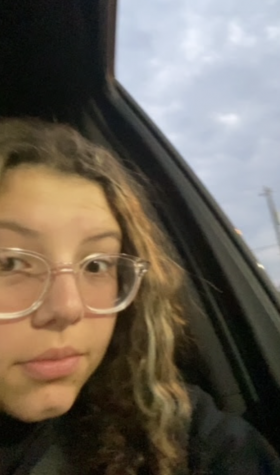 Brooklyn Slie, Staff Writer
My name is Brooklyn Slie and I'm a sophomore here at Lamar. I'm really focused on photography, graphic design, and some writing for Lamar Life. I'm...