Lamar artists win at the Scholastic Art and Writing Awards
On 24 Jan, student winners of the Scholastic Art event had their art displayed at the Spring Street Studios in Houston, an art studio that displays a range of works from local and student artists.
Seven Lamar artists were awarded silver and gold metal keys for their participation in the Scholastic Art event.There were three gold-key winners, four silver-key winners and six honorable mentions. The event was divided into different categories based on the medium the artists chose and the artists had several weeks to work on their artworks.
"Depending on the class, they had anywhere from three weeks to five weeks to work on the artwork for Scholastic," art teacher Robert Stiles said.
The students were allowed to choose any medium they wanted, including digital art, and over the course of three weeks they worked very hard to perfect their works and be ready to submit them. It would take another few weeks for the artwork to be judged privately and the winners to be announced.
"I think that there was a good amount of time to complete the artwork. Just other work I needed to do took away some of that time,"sophomore and silver key winner Pamela Fajardo said. "The most challenging thing was trying to get all the details in the painting and making it look natural. Another thing was matching colors."
Weeks later, an email was sent out announcing the winners, along with the information that the artwork would be displayed at Spring Street Studios. The showcase would provide food and beverages and feature all the students' artwork in the Houston area.
"We did about as well as I thought we would- I think it's the best we've done at Lamar, so I'm pretty excited about that," Stiles said. "I'm very happy with the overall quality of the work and I thought that the students who did well were the ones who invested the time and really thought about their work."
It was a lively event with art teachers and their students showcasing various mediums such as ink, photography, comic making, quilt making and painting, to name a few.
"I was very happy with the award," Fajardo said, "especially since it's the first time my art has been awarded something and also just being able to know that my hard work achieved it."
The competition occurs every year and students are highly encouraged to participate for the chance of recognition, scholarships, and to build their resumes. But as well as being a great way for artists to practice their skills, the competition allows them to have their work displayed. 
"I would definitely do this again since it's a great opportunity to work on your art skills and you can work towards something." Fajardo said.
Leave a Comment
About the Contributor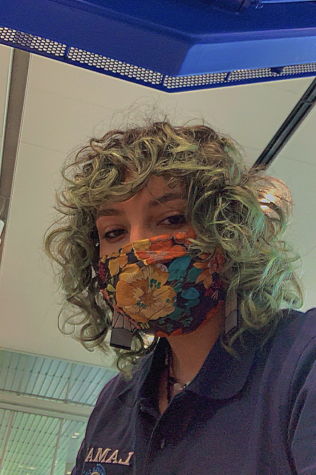 Mace Klein, Graphic Designer
Hometown- Sugarland TX

Class of 2022!

 Mace is doing their second year in graphics for lamar life, providing various graphics, covers, and ideas...