The 2022 Salutatorian: Lauren Koong
"When I was a freshman, I can tell you that I never imagined that I would be here now."
From a shy freshman who had just moved to Houston from California, this year's salutatorian Lauren Koong has blossomed into an inspiration to everyone around her and will be continuing her journey at Stanford University next year.
"I never expected to be salutatorian," Koong said. "The Lamar Life class is a 4.0 class so it brought down my GPA, which is why when they told us our rank, I was so surpriseed." 
Koong has never been an underachiever, as she became Lamar Life's Editor-in-Chief in her freshman year, leading a staff that was composed mostly of seniors. 
"When I first came to Lamar for my freshman orientation, never in my life did I think that I would be Editor-in-Chief for the next four years," Koong said. "It was really scary for me as a freshman to be yelling at the seniors, telling them to get their stories in on time and holding meetings but it was a really good experience. It pushed me out of my comfort zone because I was pretty shy and introverted."
Holding the position of Editor-in-Chief is no easy endeavor. Not only is it a vital leadership role with many demanding tasks but it is also incredibly time consuming. 
"It is genuinely one of the most difficult parts of my life," Koong said. "It sounds easy but takes a lot of work behind the scenes to put a magazine together. Every issue involves me writing stories, editing, yelling at people, giving feedback, organizing photos and headlines, making spreads and giving grades. When it's deadline week, or 'Lamar Life Week,' my friends won't see me at all because I'm just spending all my time getting the magazine together."
Despite often having to pick up the slack of other staff members, Koong works masterfully through the whole magazine process and creates truly phenomenal finished products. 
"She has one of the best drives that I've ever seen, genuinely. She knows how to have a great work-life balance but also she just works so hard at everything she does. Deadline week is very stressful for her; she pulls multiple all-nighters to get everything done and the thing is, she always gets it done, no matter how much work she has to do," Koong's assistant editor and best friend Kathryn Stone said. "She truly enjoys what she is doing and there's just something about the way she works that is so inspiring."
On top of managing the magazine, Koong was able to still become salutatorian.
"She is an extremely hard worker. She pushes herself beyond what is actually asked of her and I think that's a mark of somebody that would be salutatorian," Koong's junior year biology teacher Katie Watson said. "You can see it in her work itself whenever she turns in projects; they're always of the highest caliber, she expects the best out of herself and any group that she works with so you can see with all of the pieces adding together why she would be where she is now." 
According to Watson, being salutatorian means many things other than just good grades.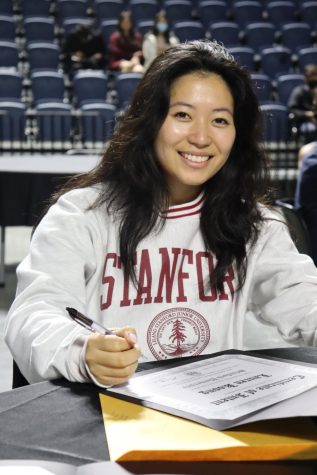 "Of course it means that you're strong in your academics but it also means that you're strong in time management, you're strong with putting content together because in all these challenging IB courses that take a lot of time outside of school and that means that you're able to exemplify what it means to be an academic achiever," Watson said. 
According to others around her, Koong's hard work and ambition has helped her achieve the level of success that most students dream of but she has remained gracious and humble through it all, perhaps at times even undermining her accomplishments. 
"I want her to be able to see how much everyone recognizes her and to see how important her work is," Stone said. "I don't think she gives herself enough credit and she's incredibly hard on herself and I just want her to be able to look at an accomplishment and be like 'yeah I did that' and be proud of herself. I want her to be able to see herself the way we all see her." 
Koong has learned many lessons that have shaped her and her work ethic. 
"I think the most valuable lesson that I have learned over the last four years is that you can really do anything if you try hard enough," she said. 
She has fought incredibly hard for everything throughout her entire high school career and due to her strong efforts, she has managed to achieve all of the goals she set for herself. 
"At the beginning of my junior year in August, I wrote down a list of goals that I wanted to accomplish both for myself and for Lamar Life. I was cleaning out my desk last week and I found it and I looked at it and saw that I had accomplished every single goal on there," Koong said. "I think a lot of the time you don't really realize what you've accomplished but seeing that list, especially because back then I was so stressed out about college, just showed me how far I had come. Just seeing the younger version of me with all of that stress on a piece of paper and seeing how I've checked off every box on there was really fulfilling."
The past four years have flown by inconceivably fast, teaching Koong so many truths of life and truly allowing her to flourish but she hopes this is not the end of her evolution and success. 
"I hope that this isn't my peak and that I keep improving and keep learning and growing," she said.
Leave a Comment