Juniors present their TOK exhibitions in-person
An integral and universal component to the International Baccalaureate program is that of Theory of Knowledge: a class dedicated to better understanding the notion of knowledge in different contextual and nuanced settings, and our relationship to such knowledge. While seemingly abstract and esoteric, such learning has real-world application, and is no better demonstrated than through the TOK exhibition – an event recently put on by the junior class.
The TOK exhibition is a recent addition to the IB curriculum, and exists to better ground the philosophical tendencies of the subject in a more tangible manner, one that pertains to our everyday environments.
"The exhibition is based on specific real-world themes that revolve around IB, such as knowledge and language, knowledge and technology, politics, history, etc.," Theory of Knowledge teacher David Fisher said. "The juniors were tasked with choosing three objects through which they can show how TOK manifests in the real world through the context of their IB prompt."
The goal of the exhibition is not just to connect learnings from the course to a given prompt but to also incentivize and prompt deeper thought and discussion.
"It starts with deciding what question you want to answer, given within the curriculum, and from there picking objects that are close to you and connecting them to the prompt," junior Jumana Elnashai said. "From there, you present your findings in such a way that is easy to grasp, and most importantly, can prompt further discussion."
For junior Rohan Mahendru, the importance of the exhibition lies in its ability to make the student focus and view their surroundings and the knowledge abundant within them in a more nuanced, perceptive way.
"Through the exhibition, we essentially learn how knowledge is portrayed with inherent bias in real world scenarios, and from there determine which tools – as shown in the exhibition – we can use to better understand and display our relationship to such knowledge," Mahendru said.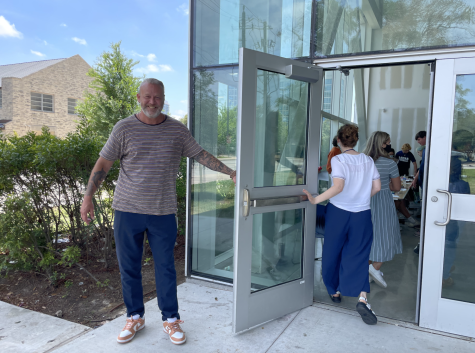 According to Fisher, the exhibition was a success and was effective in its capacity to perpetrate the core themes of IB, prompting critical thinking and analysis in his students. 
"It's been received very well," Fisher said. "This is the first year we are able to do the exhibition live, and I'm really pleased with how it went."
The success of the exhibition also benefits next year's juniors, who will now have a better understanding of the TOK class and what it entails.
"It helps give a clearer idea to the freshman and sophmores of what Theory of Knowledge looks like, and what to expect should they enter the diploma program," Fisher said.
The TOK exhibition proved to be triumphant, and given that this year was its first live showcase, was a smooth and engaging experience.
"It was really interesting to be able to share my chosen objects and see how they resonated with other students and what insights they had to offer me," Elnashai said. "Overall it was a really positive experience, and I really enjoyed it."
Leave a Comment