The Writing Lab Opens Its Doors
On Sept. 12, Lamar's Writing Lab opened. Located in the old alumni room, N212, the Writing Lab serves Lamar students' writing needs through a different approach to helping. 
The lab is designed to help students improve not only a specific piece of writing but their writing skills in general. 
"We don't focus on corrections or fixing papers. We are mostly interested in elevating the thinking that goes into the writing and the writing itself," director of the Writing Lab, Dr. Annie Lowe said.
Starting on the Sept. 12, students have been able to meet with consultants from the lab.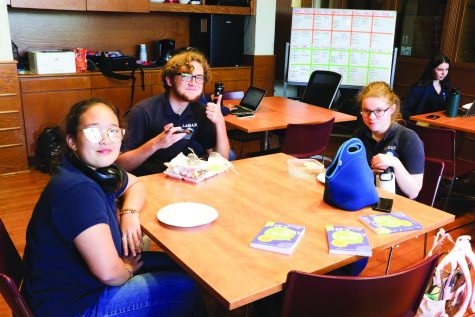 "On Tuesdays and Thursdays walkins are welcome. Or students can book an appointment and access our scheduler through the website," Lowe said.
Students can meet with a Peer Writing Coach or an experienced Writing Consultant. The Peer Writing Coaches are a group of juniors and seniors who have undergone special training and the experienced Writing Consultants include Rice University PhDs, graduate students and writing teachers.
In addition to meeting with consultants, the Writing Lab has many other resources available to  students.
"We have a growing library of books about writing and reference books. We have in-house handouts and resources that we've made. Also, I just want to emphasize our website," Lowe said. "You can log into the lab from home."
Students can receive help for all types of writing.
"The most popular is going to be academic papers, a lot of which have been assigned in class," Lowe said. "And college application essays."
However, the Writing Lab can also help with creative projects and presentations, which are more visual. In addition, the lab will hold special sessions later this semester. 
"We do special programs for college application essays and resumes," Lowe said. "Keep an eye out and sign up for these special workshops.
IB students facing the daunting Extended Essay can also receive assistance from the lab. Students will be able to get support and specialized resources that are particular to the Extended Essay.
"The writing lab has helped me in particular with the Extended Essay. I was able to refine my essay and narrow down what I wanted to talk about," senior Syrus Tolentino, who used the lab a lot last year said.
He also is a Peer Writing Coach for the Writing Lab this year.
"I've benefited a lot from it with my Extended Essay and I wanted to help others."
Tolentino says that the Writing Lab can help students brainstorm ideas and help them communicate them. The Writing Lab is about talking as much as it is about writing.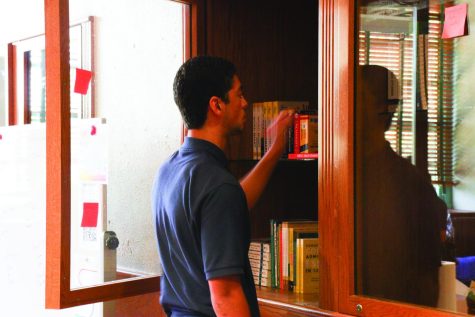 "I can be all over the place. Sometimes I throw random ideas around," Tolentino said. The consultants from the lab can help students organize their thoughts.
The Writing Lab is modeled after Rice University's Writing Lab.  The training all the consultants have undergone has been partnered with Rice and the lab uses the same theory and practices.
 "Some of our consultants consult at both places," Lowe said. When a student visits the lab, essentially they are visiting a university standard writing center.
Dr. Lowe is excited to work with students this year.
"We want the writing lab to be a welcoming place. Even though writing can be difficult and can cause anxiety, we've taken steps to make this a welcoming, open, and protective space. I'd like to encourage everyone to try it out at least once," Lowe said. "We have snacks!"