Theater puts on a successful Cabaret Night
Theater performed a "Cabaret" in the place of a musical this year for students, teachers and parents.
"We did a cabaret in place of a musical this year due to construction and so we wanted to keep the opportunity for singing and dancing alive so we put together a cabaret based on Bob Fasse choreography," theater director Aimee Smalls shared.
A great part about this performance was that everyone got a chance to stand out.
"Every individual person in the cabaret got to shine and since you don't get the chance to see that in a lot of shows that was really fun," senior William Darden said.
 As for a cabaret being a type of musical, there was a lot of dancing and some cast members found that difficult.
"For me the hardest part was dancing because I can't dance and there is a lot of talented dancers in theater so it was kind of daunting to be with them," senior Jacob Poythress said.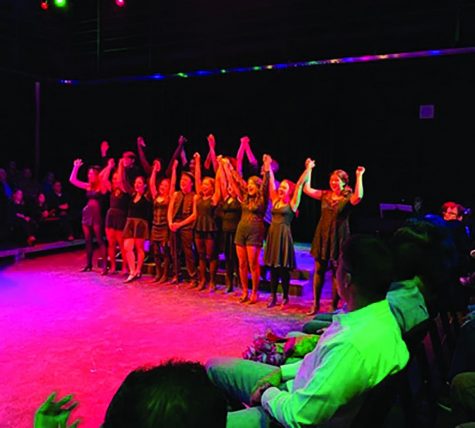 Some even found the overall movements inspired by Bob Fasse were hard to act upon as well.
"Bob Fasse was a guy who liked awkward stuff and he made all his people awkward and that was hard for me because I don't act like that and that's not who I am," senior Whitney Moran said.
Others who had to change their voice to be in character was found it even more difficult.
"The hardest part for me was the opening number because I have to talk in an accent and to top it off i had to sing really loud as I hold a note for a very long time. That was something I had to mentally prepare for," Darden said.
Now for this cabaret theater had less time than usual to put it all together.
"We had about two or three months and that was a smaller time frame to get it ready than we would for a normal musical. So we worked longer hours each day and sometimes we would even have rehearsals until seven p.m.," Darden noted.
In the end of everything the entire performance was spectacular to each and every student, teacher and parent.
"We felt that this performance was such a success that we look forward to doing more cabaret styled plays in our regular seasons," Smalls said.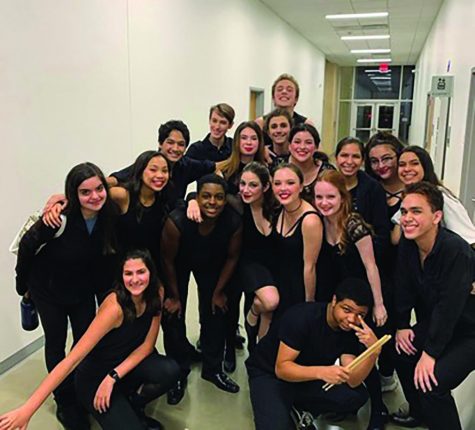 Leave a Comment