Coup invites students to pursue the arts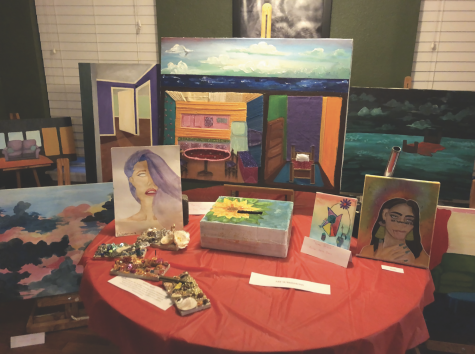 Students at Lamar have single-handedly established an art-based organization called Coup Productions. The purpose of Coup is to change the way people see the arts and encourage people to explore the arts. Coup has been a student-run organization and is off to another year of success.
 Senior Stephanie Ndukwe is one of the four founders of the organization.
"Coup productions is a company that my friends and I decided to make early on last year. It's meant to be a creative outlet for everyone who is interested in the arts," Ndukwe said. "We have been focusing on doing theater but we are branching out into visual art. We just want to explore the arts and have it done student directed and not so much curated by adults where you have to limit yourself."
Senior Presley Sharp is proud of how well Coup can produce its shows.
"Being able to do student written, student produced, and student directed productions really gives us a sense of satisfaction and we feel really proud of our work once the whole thing is complete," Sharp said. "I enjoy being in Coup because of the sense of being in something bigger than yourself and knowing that I'm achieving something that not a normal 17-year old achieves."
Senior Whitney Moran loves being in coup and doing productions.
"My favorite thing about being in coup is the "core four" and the bonds we have created in order to run a successful production company," Moran said.
Senior Fronia Kemper is one of the four executives. Kemper and the other executives say that coup is a company that focuses on the arts in all of Houston.
"We have our shows all, over Houston. Our first show that we did was at The First Unitarian Church. We had our second show at the Memorial Park Conservancy and our third show was at one of our actor's houses," Kemper said.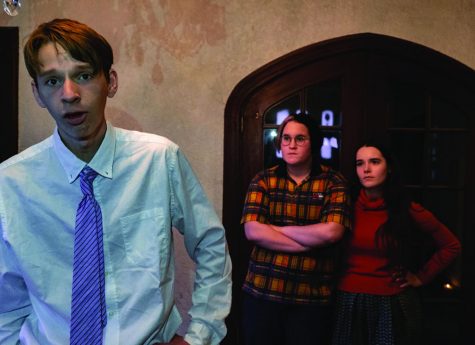 Coup has a powerful and meaningful name, just like the purpose behind this organization.
"Our name Coup has been seen kind of negatively. A lot of people think we are against a lot of school associated things. Our company's name does allude to the French word coup d'état which means a revolution but we are doing a revolution that is not necessary against school theater. Our revolution is against the way that people see the arts in general and how a lot of people aren't necessarily free to express themselves as freely as they would like to. We are really revolting against that more than anything."
Kemper and the rest of the founders decided to keep the name and not allow the negativity to get to them.
"We discovered the negative side of the name once we had already chosen it, but we realized that we did want to be a revolution like a coup, but for the arts. We wanted to be a coup for the changes within theater, within visual art and poetry, writing, and all those things. We wanted to inspire change and new discoveries," Kemper said.
All four of the seniors in charge of coup have different inspirations and motivations behind coup. 
"My inspiration for Coup was to give students the opportunity to learn and expand their knowledge into any aspect of production they could think of" Moran said. "The four of us all have different inspirations for Coup and I think that' what ties all of it together and makes it so successful."
Coup has received a lot of friendly remarks on their productions and are planning on becoming a bigger company.
"After the shows, people always come up to us and tells us that we have done a good job in our productions. Jered Berry who is in charge of the HISD theater talked to us about making Coup an actual business," Sharp said.
According to Ndukwe, Coup does not have an exact member count.
"Right now, there is only four of us that are in charge of everything, but coup does not necessary have a member count. We don't say that people are definitely ours," Ndukwe said. "We just let you do art. If you have a play that you wrote that you haven't had a chance to put on, we will help you bring it to life. We don't have members that are indefinitely bound to us. We just help people explore their talents."
The experiences that these four seniors have had and the people in their lives were the inspiration for Coup to start.
"Coup was made because we were really inspired by the theater we had done throughout high school and middle school and all of the really great role models we had. We really wanted to start stepping into that role of it ourselves," Kemper said. "We felt like we were ready for that and we also had a lot of work that we had written so we wanted to create a space to produce the work we have written. We wanted to not only showcase our abilities but also the abilities of our friends who may have not realized that they are into theater yet but we saw potential in the. We thought we could give them a space to try it out without any judgement."
The members in Coup are given the freedom of creativity and are encouraged to try new forms of art even if they think they aren't capable of doing a project.
"Coup is an organization that tries to provide a space where the students can have complete control over what they are doing. We want to take away anything that prevents our members from taking huge risks. We want them to learn from mistakes instead of having people telling them what to do because we feel students learn better that way."
The founders of Coup will be graduating this year, but that doesn't mean that Coup will be leaving too.
"Though the original four are going to be graduating this year, we do have plans to hand it down to some pretty trusted people. I think that they are going to carry on with it pretty well. We are going to hand it down and it will continue in the Houston-Lamar area. For us original four, since we will all be going to college in different places, one of us is going to college here so she will stay to supervise everything that is going on. The three of us remaining will continue coup in our respective places. The goal is that after college, we will come back and keep doing what we are doing."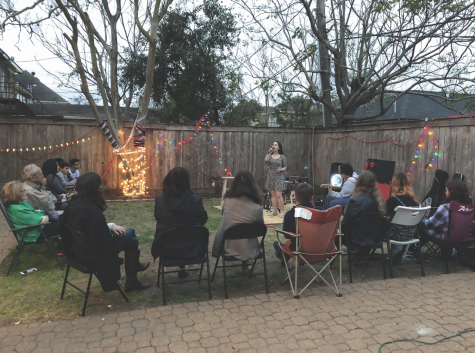 Leave a Comment