UIL Academic team prepares for districts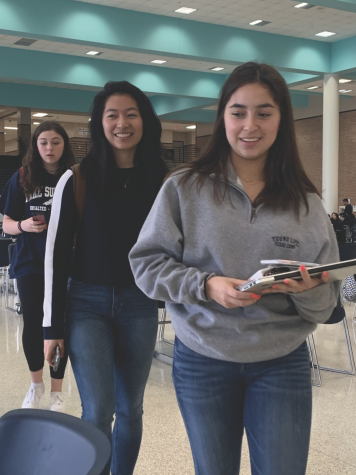 University Interscholastic League, or UIL, holds academic tournaments on the weekends that students participate in. They work hard to compete for the upcoming regional competition.
Some students are recruited to participate for the writing events of the competition by journalism teacher Cynthia Smith. She asks students of hers that she sees potential in to join the team.
"I was put in a journalism last year and I was kind of iffy about it but I always had a feeling for it and then Mrs. Smith one day, well I wrote an article for the magazine and she really liked it so she was like 'try the UIL thing'," junior Ethan Martinez said. "I think it was my second competition I got all first place twice. I swept the competition and I made regionals last year and then I got sixth. So yeah, I've been doing it since last year and this year I'm still sticking in it and trying to make it to state."
Others join for various reasons. One students' reason being – his twin sister does it!
"So, my sister is in the journalism class and she told my parents about this and they forced me to go along with her, so here I am," said sophomore Alexander Koong, who competed in three events. "This is my first year but I'm probably going to continue it for the rest of high school."
The tournaments can run through early mornings or late afternoons, but it all depends on what or how many events you have.
"You usually show up 30 minutes before your first event just to make sure everything is okay. Because I do five events, they're all back to back so I just go from one room to another to another," said sophomore Lauren Koong, who was one of two students to make it to the UIL Academic State Championships last year. "For me, (tournaments) are usually an all-day thing. I'll normally get there at about 10 in the morning and then I won't leave until maybe three or four in the afternoon."
Lauren hopes to improve on her results from last year.
"Last year I made it to State in news writing and I placed sixth," she said. "My goal for this season is to make it back to State and place in the top three. Competing in UIL is one of my favorite things to do; it's a really fun extracurricular and I love the team."
There are many different subjects competitors can compete in, other than writing or journalism. 
"It's held at a high school every time and there's just a bunch of people there and there's like science, math, debate all this type of stuff," Martinez said. "It's just all throughout the high school; they have all the subjects basically."
Despite the early mornings, students still enjoy participating in the competitions.
"It was fun," Alexander said. "I kind of just got to chill the whole day while I was waiting for my other events to start but it was pretty fun."
The students recommend UIL for anyone who wants to better themselves and has time to spare on the weekends.
"UIL is literally for anyone; the reason I started doing it was my GPA is not the highest, its not low, its just not the highest and I thought that it would look good on my college resumes. Really, it's for anyone that's trying to get something on their resume or get some experience in a field and have something to show," Martinez said. "It shows your academics and intellectuality."
Leave a Comment