How to stop social distancing from becoming social isolation
Students share new ways to connect with friends and family while at home
Despite the restraints of social distancing and quarantine, many students have found new and creative ways to interact with their friends.
Social distancing means students cannot see their friends like they did before the COVID-19 pandemic.
"I think it was a drastic change in my life since I really enjoy spending time with both my friends and my family," junior Luis Sanchez said. "Personally, this situation has been frustrating to me since it feels like you're close to your friends but at the same time you feel them very distant from you."
Some are taking matters into their own hands and finding new ways to stay in touch.
"I have found many ways in which I could keep in touch with my friends," Sanchez said. "Even though we can't be close to our friends and family, these new ways of communication made it possible for us to spend time with all the people we care about."
Newly-discovered apps, such as Netflix Party, have risen to fame due to its ability to connect users stuck at home. Netflix Party, a Chrome extension, allows people to watch movies and TV shows with other people simultaneously, with a chat room on the side so they can talk with each other.
"Netflix Party is my favorite since it made it possible for me to watch movies and TV shows with my friends during this pandemic," Sanchez said.
This app has taken over students lives as it is a fun way to stay entertained and connected with friends.
"It seems really fun because everyone's screens are synced up and you can watch with your friends at the same time." Seigle said.
Better-known apps, like FaceTime, have also risen in popularity as people turn to the Internet to stay connected with friends and family.
"I also like to use FaceTime with my friends, which has definitely made this situation more bearable for me," Sanchez said.
Similar to FaceTime, another application called Zoom has taken over during quarantine.
"I discovered Zoom over this break," junior Lauren Barrow said. "I think it is a really good alternative to group FaceTime and you can have a lot more people on the call."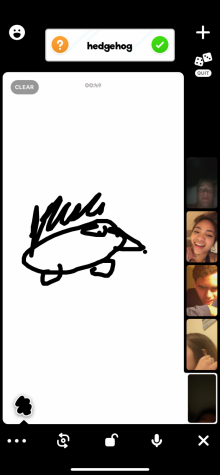 These trying times have forced people to see how valuable their friends and family are.
"Through this experience of trying to find ways to stay in touch with my friends and family, I have realized how important they are to me," Barrow said, "When we get out of quarantine I am going to be so excited to get back to seeing everyone in person and I definitely will be more thankful."
Leave a Comment